Day trips are more frequent on our summer calendar this year. We have been steadily enjoying nearby places within a 1-2 hour drive on almost every Sunday. The idea is to have a great time- an enjoyable drive in the morning,  a nice stay and coming back with enough time in the late afternoon. This extra time before evening gives us plenty of time to unpack, do necessary clean ups and start the week on the right foot. Day trips beats the stress that comes with vacation, the planning is a breeze and so are the post trip clean ups.
We like to keeps things simple as a family and here is how we plan our day trips-
Plan Ahead– We usually give 1-2 weeks to plan for a day trip but we made impromptu trips as well that was decided the night before. You want to find out what you enjoy as a family while being open to trying new endeavors. Ask the family members for their input and plan accordingly. Remind yourself what had worked for you in the past and use this knowledge in your planning for a more enjoyable trip. But don't try too hard to please everyone, because trying to please everyone is a pipe dream that will only add stress to your planning.
Plan Well– Look up the places you would like to visit on your day trips. If you know someone who had been there, find out about their experience and if they have any tips to share. Don't forget to check out the local weather a day before your trip so you can wear/pack the right clothes. Both Tripadvisor and Yelp have great tips that will help you plan better.
Packing for a day trip– We like to pack light for our trip while making sure we have the basics covered. Here is what we take on our day trips-
Clothes-1 Extra set of clothes for each kid, windbreakers, cardigans for adults and kids.
Protection- Sunscreen, bug spray, first aid things- calendula cream, band-aid.
Beach/Creeks- Swim suits, towels, sandals.
Entertainment- Books, sketch books and pencils, color pencils, audio books, binocular, camera.
Park- Mat, blanket, scooter, helmet.
Clean up- Beach towel, hand towel, water.
Handy things to have-
 Beach tents are great to provide protection from sun, wind and rain. It also protects your eyes from looking at scantily clad people ;).
 A Canopy provides great protection from sun, specially if you plan on staying for a while.
 Beach umbrellas are good alternatives if you don't have a gazebo or a tent. It protects you from sun.
Blanket/sheets/mats- These are handy for anywhere. I keep a blanket in my van all the time. And I take sheets made with home decor fabric. They look much better than regular fabric or bed sheets and do well in the washer/dryer. You can get these fabric at fabric stores, like JoAnn.
Cooler/s keeps food hot/cold and fresh. Take ice to keep food fresher longer and to avoid food waste when you have left overs.
Cooler bags- I love coolers bags as they are so convenient when you do not want to bring a cooler. I bring at least 2 with me to carry our foods and drinks. My bags are from Whole Foods.
Food– We prefer simple food for day trips. A cooler is a must have for keeping foods fresh and to avert food waste. We like foods that travel well and easy to carry in containers. Our favorite foods usually include some kind of meat/fish that can go with bread/rice and cut up cucumbers. Why no lettuce or tomato? Because lettuce tend to wilt easily and tomatoes or any juicy fruits/vegetable are a challenge to keep fresh. We also take whole fruits that don't require washing before eating, like oranges and bananas. We take muffins, biscotti, dried fruits and chips for snacks and desserts. Muffins sometimes double as breakfast if we leave early in the morning. And everyone has a water bottle that gets refilled as needed.
How do we keep it waste free- We do not take any disposable items. I only take reusable items instead of their disposable counterparts., from  packing tableware and silverware to cloth napkins. I have stopped using disposable items for years now after many years and a lot of effort. So, don't be too hard on yourself if you're new to zero waste lifestyle. Be kind and patient with yourself while trying your best to adapt to a new lifestyle that keeps the Earth cleaner and healthier.
Here are the substitutes that we use to keep it waste free-
Disposable Plates- We use plastic plates or rectangle plastic containers instead of disposable plates. I prefer the containers over the plates since they are leak proof. You can rinse your plates before bringing them back and wash them well once you are home.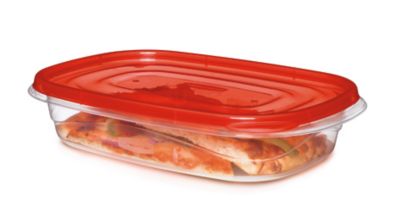 Disposable spoons/forks- Silverware.
Disposable cups/glasses- Water bottle and plastic cups.
Paper towel/ paper napkins- Cloth Napkins and hand towels. Wash cloths with a dab of are a great substitut
Disposable table covers- Fabric table cover.
Bottled water- Water bottle, water fountain.
Trash bag- You can take a plastic bag for bringing  back dirty plates/utensils. This bag cane be reused as a trash bin liner. You can use a washable canvas tote bag if you want to avoid using plastic bag altogether.
Extra tips-
All foods are packed in containers that can be stacked neatly in the cooler. I divide the food in smaller containers than having all in one big container.
Trash- We usually take boneless meat/fish so there is nothing to throw away. We discard non consumable things like bones, peels, rinds, pith etc if a garbage bin is available. If farbage bins are notavailable they come back with us in a small plastic grocery bag.
All reusable items go to the dishwasher, washer and dryer once we are home so they are ready to be used at home or at the next day trip.
Souvenirs– We try to refrain from purchasing things to waste less and live without clutter. Usually, we get a pebble/rock to add to our garden or bring a flower or leaf to press at home.. We also bring home a few shells or driftwood if we visit a beach. The only souvenir we regularly get are pressed pennies as the kids like to collect them. These do not cost much, take very little space and reminds them (and us) of the places that we have visited. Useful things like dishtowels or mugs are a good idea too. Sometimes I get a postcard or two for my friends who live in another coast.
How to have a fabulous time-
Let go of expectations– Letting go of expectations is the best way to have a great experience. It takes some practice but you will get there insha Allah. Don't expects everyone to be happy or to get along well all the time. Don't expect your destination will look as you have seen on a postcard or YouTube.
Enjoy Small Things– Enjoy the small things that you have now. Involve kids in planning and packing. Show them how it's so much fun just because you all are going together somewhere. Kids learn from observiing you, so take pictures, look for small things that bring great pleasure, like a pebble or a wildflower or may be a rainbow. Allah(swt) put them out there just for you- make an effort to find them and enojy with your family.
Be Grateful– Express instant contentment and thank Allah(swt) right away for any pleasant experience. Act grateful and you will be grateful insha Allah. Being grateful is a choice and takes practice. Don't count on feeling grateful to be grateful. Allah(swt) is aware of your struggles and your efforts to do better in spite of them.
Dhikr and Dua– Day trips are great times for remembering Allah(swt) and to get your duaas get accepted. You can keep a list of duaas in your dashboard so you can ask for them whenever you're on a trip. There is a better chance of getting your prayers accepted as you're traveling. Remind the kids to do the same.
I hope you can make some time for these frugal day trips. These trips will give you a break from your week to week routine and you will make fond memories at the end of Summer/Fall, when the long winter days are about to set in. You will also feel pleased with your accomplishments that comes from your frugal adventures.
I hope you have a great time with your family. Feel free to share pictures from your day trips.